There are, or were, five members in my family: me, my wife, our two daughters and a soft toy pterodatyl called Terrence. Sadly, Terrence is missing, presumed lost in action on Wanstead High Street.
For the last year-or-so, Terrence has been everywhere with the Samuels family. He's been on holiday, to school, to London, to bed and on film (many, many times). Virtually every picture of my eldest during that period includes her holding tightly to Terrence.
But no more. Unfortunately, he wasn't held tightly enough yesterday morning on Wanstead High Street and the little pterosaur slipped from my eldest's grasp. We returned to the scene of the event but could find no sign of Terry.
The pterodacytl in question is available at the Natural History Museum in London, so all is not completely lost. But any replacement will not be 'the'  Terry. Personally, I feel terrible. My eldest loved Terrence and I miss him being around. To anyone that lives in Wanstead and that might have been on the High Street yesterday (I have asked all the shopkeepers and market traders), here's what Terry looks like: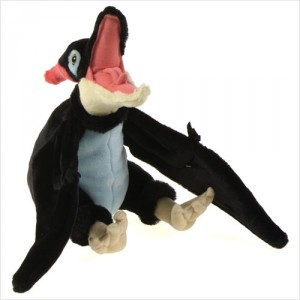 If you see him, please let me know. We miss you, Terry!